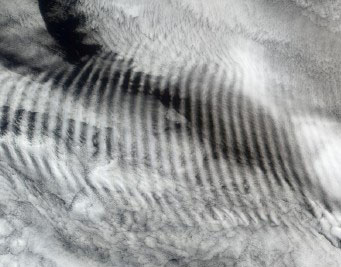 Gravity waves. They are pretty but have
nothing to do with gravitational waves.
Image Source: UWO.
Krauss and Wilczek recently posted a brief note on the arXiv. They present a dimensional argument that claims signatures of relic gravitational waves in the cosmic microwave background (CMB) would be evidence for quantum gravity.
Relic gravitational waves are perturbations of space-time created at the Big Bang. They cannot presently be directly detected, but if they exist they would affect the polarization of CMB photons. The Planck satellite mission is about to deliver data on CMB polarization, so Krauss and Wilczek's is a very timely contribution.
While their dimensional argument is original and compelling in its simplicity, what they say is not particularly surprising and known to researchers familiar with the subject. The argument means essentially if there are no suitable matter sources that could cause space-time perturbations, then the only way relic gravitational waves can have been created is through quantum effects. That's because it needs a mass scale to get the dimensions right and Newton's constant will only give a mass-scale when suitably combined with Planck's constant, thus indicating a quantum effect.
The argument however only works without matter that brings in anisotropic stress. It would still work if the matter was solely scalar fields because these don't contribute to the anisotropic stress, but electromagnetic radiation could deliver such a contribution. Be that as it may, this means by a purely dimensional argument alone it is hard if not impossible to reverse the logical arrow, that being the question whether relic gravitational waves could have been created in a non-quantum fashion.
Few few people doubt that relic gravitational waves exist and are quantized. It would certainly be exciting to have evidence that this treatment of the early universe is correct, but it must be said that this is not evidence for what the community commonly refers to as quantum gravity.
"Quantum gravity" is normally meant to be the fundamental theory for the quantum nature of space and time. The quantization that is being used for gravity in the early universe is normally explicitly referred to as "perturbatively quantized gravity". It is expected by all but
a few dissidents
that perturbatively quantized gravity is the correct effective limit of
any
theory of quantum gravity. The mere existence of such quantized perturbations thus tells us little. More telling is the spectrum of the perturbations which depends on what happened in the early universe, for example on whether there was a Big Bang or a Big Bounce, and that does indeed depend on the full theory of quantum gravity.
Evidence for relic gravitational waves would give strong support to the validity of perturbatively quantized gravitational waves (essentially quantum field theory in curved background), but it takes more than a dimensional argument to show that other models cannot produce the same observation. And even if that could be shown, the mere existence of the gravitational wave background does not teach us much about the non-perturbative theory of quantum gravity. Thus, Krauss and Wilczek's argument makes a good point but its relevance for research in quantum gravity is limited.
Kudos to Jakub Mielczarek for helpful communication.
Bonus: Krauss at a recent discussion following his public lecture in Stockholm. Spot the American among the Swedes :p