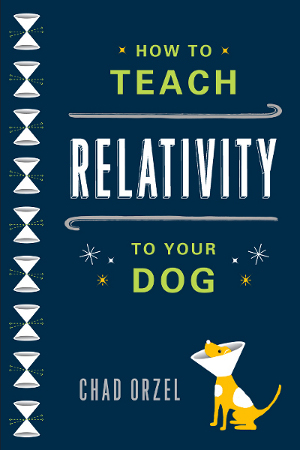 How to Teach Relativity to Your Dog
By Chad Orzel
Basic Books (February 28, 2012)
Let me start with three disclaimers: First, I didn't buy the book, I got a free copy from the editor. Second, this is the second of Chad Orzel's dog physics books and I didn't read
the first
. Third, I'm not a dog person.
Chad Orzel from
Uncertain Principles
is a professor for physics at Union College and the best known fact about him is that he talks to his dog, Emmy. Emmy is the type of dog large enough to sniff your genitals without clawing into your thighs, which I think counts in her favor.
That Chad talks to his dog is of course not the interesting part. I mean, I talk to my plants, but who cares? (How to teach hydrodynamics to your ficus.) But Chad imagines his dog talks back, and so the book contains conversations between Emmy and Chad about physics.
In this book, Chad covers the most important aspects of special and general relativity: time dilatation and length contraction, space-time diagrams, relativistic four-momentum, the equivalence principle, space-time curvature, the expansion of the universe and big bang theory. Emmy and Chad however go beyond that by introducing the reader also to the essentials of black holes, high energy particle collisions, the standard model of particle physics and Feynman diagrams. They even add a few words on grand unification and quantum gravity.
The physics explanations are very well done, and there are many references to recent observations and experiments, so the reader is not left with the impression that all this is last century's stuff. The book contains many helpful figures and even a few equations. It also comes with a glossary and a guide to further reading.
Emmy's role in the book is to engage Chad in a conversation. These dialogues are very well suited to introduce unfamiliar subjects because they offer a natural way to ask and answer questions, and Chad uses them masterfully. Besides Emmy the dog, the reader also meets Nero the cat and there are a lot of squirrels involved too. The book is written very well, in unique do..., oops, Orzel-style, with a light sense of humor.
It is difficult for me to judge this book. I must have read dozens of popular science introductions to special and general relativity, but most of them 20 years ago. Chad explains very well, but then all the dog stuff takes up a lot of space (the book has 300 pages) and if you are, like me, not really into dogs, the novelty wears off pretty fast and what's left are lots of squirrels.
I did however learn something from this book, for example that dogs eat cheese, which was news to me. I also I learned that Emmy is partly German shepherd and thus knows the word "Gedankenexperiment," though Stefan complains that she doesn't know the difference between genitive and dative.
In summary,
Chad Orzel's book "How to Teach Relativity to Your Dog" is a flawless popular science book that gets across a lot of physics in an entertaining way. If you always wanted to know what special and general relativity is all about and why it matters, this is a good starting point. I'd give this book 5 out of 5 tail wags.