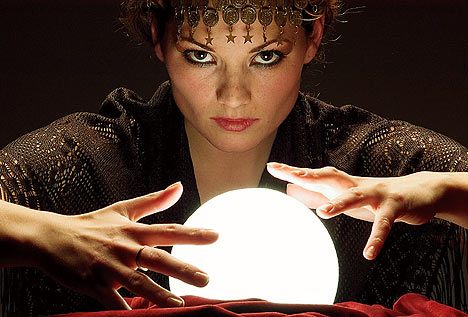 Niels Bohr was a wise man. He once said: "Prediction is very difficult, especially about the future." That is especially true when it comes to predictions about future innovations, or the impact thereof.
In an article in "Bild der Wissenschaft" (
online, but in German, here
) about the field of so-called future studies, writer Ralf Butscher looked at some predictions made by the Fraunhofer Institute for Systems and Innovation Research (ISI) in 1998. The result is sobering: In most cases, their expert panel didn't even correctly predict the trends of already developed technologies over a time of merely a decade. They did for example predict the human genome would be sequenced by 2008. In reality, it was sequenced already in 2001. They did also predict that by 2007 a GPS-based toll-system for roads would be widely used (in Germany). For all I know no such system is on the horizon. To be fair, they said a few things that were about right, for example that beginning in 2004, flat screens would replace those with cathode-ray tubes. But by and large it seems little more than guesswork.
Don't get me wrong - it's not that I am dismissing future studies per se. It's just that when it comes to predicting innovations, history shows such predictions are mostly entertaining speculations. And then there are the occasional random hits.
I was reminded of this when I read an article by Peter Rowlett on "
The unplanned impact of mathematics
" in the recent issue of Nature. He introduces the reader to 7 fields of mathematics that, sometimes with centuries delay, found their use in daily life. It is too bad the article is access restricted, so let me briefly tell you what the 7 examples are. 1) The quaternions who are today used in algorithms for 3-d rotations in robotics and computer vision. 2) Riemannian geometry, today widely used in physics and plenty of applications that deal with curved surfaces. 3) The mathematics of sphere packing, used for data packing and submission. 4)
Parrondo's paradox
, used for example to model disease spreading. 5) Bernoulli's law of large numbers (or probability theory more broadly) and its use for insurance companies to reduce risk. 6) Topology, long thought to have no applications in the real world and its late blooming in DNA knotting and the detection of holes in mobile phone network coverage. (Note to reader: I don't know how this works. Note to self: Interesting, look this up.) 7) Fourier transform. There would be little electrodynamics and quantum mechanics without it. Applications are everywhere.
Rowlett has a call on his website, asking for more examples
.
The same issue of Nature also has a commentary by Daniel Sarewitz on the NSF Criterion 2 and its update, according to which all proposals should provide a description of how they will advance national goals, for example economic competitiveness and national security. Sarewitz makes it brilliantly clear how absurd such a requirement is for many branches of research:
"To convincingly access how a particular research project might contribute to national goals could be more difficult than the proposed project itself."
And, worse, the requirement might actually hinder progress:
"Motivating researchers to reflect on their role in society and their claim to public support is a worthy goal. But to do so in the brutal competition for grant money will yield not serious analysis, but hype, cynicism and hypocrisy."
I fully agree with him. As I have argued
in various
earlier posts
, the smartest thing to do is reducing pressure on researchers (time pressure, financial pressure, peer pressure, public pressure) and let them take what they believe is the way forward. And yes, many of them will not get anywhere. But there is nobody who can do a better job in directing their efforts than they themselves. The question is just what's the best internal evaluation system. It is puzzling to me, and also insulting, that many people seem to believe scientists are not interested in the well-being of the society they are part of, or are somehow odd people whose values have to be corrected by specific requirements. Truth is, they want to be useful as much as everybody else. If research efforts are misdirected, it is not a consequence of researchers' wrongheaded ideals, but of these clashing with strategies of survival in academia.